If you are an inventor, you must have heard, if not benefited from Kickstarter. If not, no need to worry, we take the deliberation to expound on Kickstarter and some of its projects for electronic diehards. Kickstarter is an American based corporation that funds creative projects on a global basis thus enabling inventors with lesser amounts of money to bring out their ideas to life. So far, the company has supported many projects exceeding 250, 000 in various sectors thus enabling inventors to make their ideas a reality. By funding one's plans, Kickstarter goes a step forward to impart one with experiences in their line of duty. Now that you are in the know, we can go ahead to discussing projects for electronic enthusiasts.
Among the challenges that one faces when coming up with an electronic invention, funding is on top of the list. Due to this, one seeks for financial support to achieve their dream. However, some sources of cash can be not only risky but also treacherous. On Kickstarter however, you get to enjoy funding without paying back lucrative amounts of money or getting your idea stolen from you. Among the electronic projects that have received substantial amounts of funding from Kickstarter and came out success is.
3 Kickstarter projects for all electronics enthusiasts
1. P.C Bite 2.0 – The hands-free & steady solution for your measurements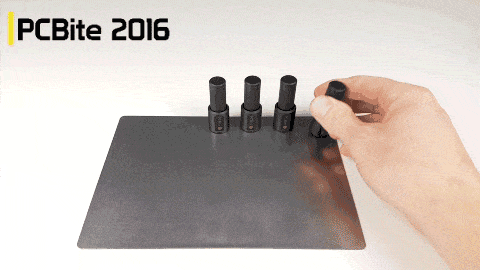 On the top pedestal is the P.C Bite 2.0. This aims at stopping the wobbling of PCB when you are working on it and also instant measurements. Additionally, this offers hands-free operation and ensures that you get accurate results when working on your PCB projects. Even better, the probe automatically lifts and drops without any screw adjustments hence easing your operations even more.
The contents of this set include;
Eight insulation washers
4 PCB holders
Four arms with test needles
one large plate
Two alligator clips
Four crown needles
4 test wires
This set comes at a price of $120 hence ensuring you save a substantial amount of money. Additionally, you can get longer test wires in the color that serves your needs best. Also, for a meager price, you get two banana DuPont cables that satisfy your requirements fully. Also, you can opt to invest in a microfiber cloth to keep your plate clean with every use.
Fitted with a flexible metal arm and a magnetic base, the probe holds on metal surfaces hence a firm grip even in the case of bumping. Even better, the tip of the probe is designed in a manner that it can hold a variety of PCB boards without presenting any challenge. To reduce the wobbling of the hand when working on your projects, the rooted gooseneck ark keeps your hand steady hence ensuring that you achieve precision in all your operations.
Among the benefits that one gets to rip from this set include;
secure mounting of PBC plates
Flexibility as the set can hold PBC of any size and shape with the least hassle
Easy mobility without disintegrating mounted parts.
Easy soldering of your plates without spilling soldering metal all over thus saving on soldering material.
Assurance of service as several prototypes have been put to the test and exhibited exemplary service.
Checkout this Kickstarter project here
2. Pokit – Oscilloscope, Multimeter & Logger that Fits in Your Pocket
Having a quality oscilloscope at your service can be the difference between quality service and various struggles. However, having one that you can carry around with you and enjoy service from any place of your choosing is even a more significant plus. For easy portability, Pokit is undoubtedly the way to go. This allows you to test even on the go and without blowing large amounts of money. What makes this an investment worth one's money is the fact that the compact set doubles up as a multi-meter and a logger.
To offer readings, the compact tool (the size of a key holder) connects to your phone wirelessly provided you have installed the Pokit app on your phone. For accurate readings, the device uses your phone's energy to display measurement and waveforms in a detailed manner hence showcasing vast amounts of efficiency.
What makes this a revolutionary gadget in the market is the knob free operation. With a touch interface, the device makes the measurement of wavelengths faster and more accurate. This unlike previous models of the wavelength measuring devices that were huge in design and relied on knobs to set before taking measurements.
With this at your service, you get to record AC/DC voltages and AC/DC currents, resistance, and ambient temperatures. Also, the set features a continuous diode checker that displays readings instantly. To select between the modes, you quickly have to tap your screen thus selecting the mode you wish to use. Even better, the oscilloscope can store data for long durations of time before display on your phone. What makes Pokit a game changer in the market is the fact that it has better performance than all oscilloscopes despite the size.
Among the features that make this the best oscilloscope in the market so far are;
Ultra-compact design
Can be used as a key holder
Probe clips
Wireless connectivity to mobile devices
Standalone logger
Replaceable battery
Easy touch interface
Compatible with Android and iOS
Comes with a carrier for the set hence avoiding misplacement of smaller parts in the set.
Affordable price below $50, therefore, assuring you service worth than your money
Future upgrades that ensure you rip the most from your acquired tools without the need of replacing as you have only to upgrade the device.
Checkout this Kickstarter Project Here
3. Arduino Compatible RFID Reader Module with EEPROM
Being able to control the access of people is a process that was made much easier by RFID technology. However, if you are looking to deal cards, it can prove to be a hard task getting a reader that entirely suits your needs. To ensure that you can create security systems using RFID cards with the least hassle, the Arduino Compatible RFID reader module with EEPROM is a knight in shining armor.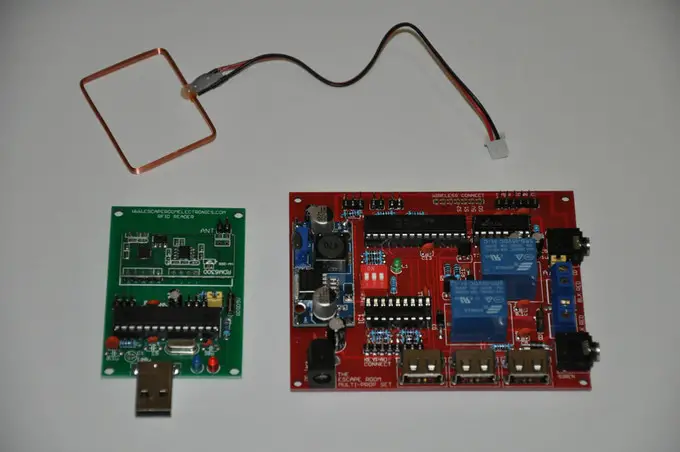 Among the features that make this stand out from the rest is the ability to hold information for up to five cards. These can be fed into the system with the least amount of time as it takes lesser duration to program. The data from the tags are held in an EEPROM memory; thus cards are saved even when the system is not powered on.
Also, programming of this device is an easy deal as it can be connected to devices through a USB connector or the pads that are fitted on the rear side of the circuit board. Even better, the system is easy to comprehend thus cuts down the hassle hence giving programmers a more leisurely time and offering them a space to be creative.
When the RFID reader is fed with information of five RFID cards, the RFID card reader indicates a blue light. This feature enables one to know when the reader is holding enough info and when it has space for extra cards. Since the set comes with a wall adaptor, enough energy is transmitted to run the system.
The lock set present in the system connects to the control board directly and thus interprets information from RFID cards even faster. Additionally, the set is compatible with 125kHz RFID cards and comes with a set of codes that one can feed to cards. So far, the set has been tested and proven to be working correctly. Although it has not yet been released to the market, the reader will be an excellent device for every programmer looking to better their skills in RFID.
Checkout this Kickstarter project here