Are you not familiar with the basics of electronics? We have just opened an online store where 4 very good books on basic electronics have been kept for sale. You can read the reviews of these books and buy them as you wish. These books are being followed by students in some of the best universities in the world. Check them out and buy copies here:- 4 GREAT BOOKS TO LEARN BASIC ELECTRONICS
Description. This is the circuit diagram of a 3 LED bar graph type battery monitor circuit that is ideal for monitoring the voltage level of an automobile battery.When battery voltage is 11.5V or less transistor Q1 will be On and the LED D1 will be glowing.When battery voltage is between 11.5 and 13.5V, the transistor Q2 will be On and the LED D2 will be glowing.When battery voltage is above 13.5V the transistor Q3 will be On and the LED D7 will be glowing.
Circuit diagram with Parts list.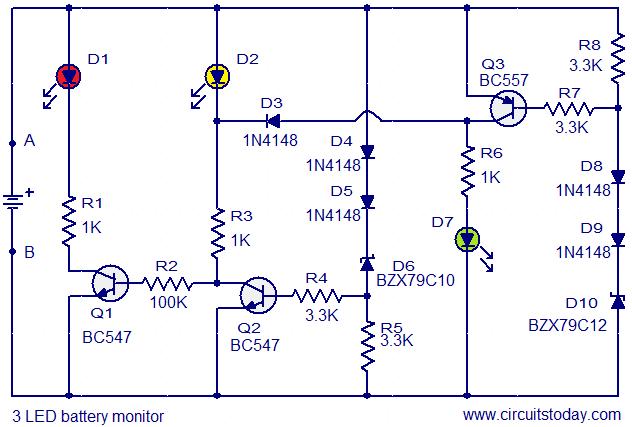 Notes.
Assemble the circuit on a general purpose PCB.
The battery to be monitored can be connected between the terminals namely A and B.
It is always better to use LEDs of different colour.