The installation and use of outdoor security cameras have never been easier with advanced technologies that are currently in use. You can easily install a security camera now without calling an expert because we now have wireless cameras. The 4G Solar Security Cameras do not only work using the 4G network, but they also get charged by the solar power source. This means you do not need manual wiring to connect them or a wired electrical connection for power.
Solar energy has been one of the most reliable and convenient power options. This efficient power supply has been applied to security camera design. Are you looking to upgrade your security cameras to the solar-powered 4G versions? This article is exactly what you need, keep reading to learn more.
Why Solar Security Cameras?
Outdoor security cameras like any other camera require a power source. Traditionally, cameras are connected with wires to a suitable electric power source. New designs are now wireless which means they are now powered using rechargeable batteries. For solar security cameras, the batteries are recharged by the sun. These cameras come with a solar panel that ensures the batteries are recharged without needing manual intervention.
Since it is solar-powered, one of the first questions that may come to mind is; do solar security cameras work at night? Oh yes, they do. Because of the rechargeable batteries, the solar-powered outdoor camera keeps working even at night. The batteries last for somewhat between one to three years before they need to be replaced.
What are 4G Security Cameras
The transition from wired security cameras to wireless ones is a major upgrade to surveillance security. And there is yet another feather to the cap of that upgrade with the invention of the 4G security cameras. What are 4G security cameras? These cameras make use of the 4G mobile network and so do not need either a wired connection or WIFI.
These advanced cameras have a MicroSD card that automatically records the feeds. Based on the design, there are variations to the functionalities of 4G security cameras. Many can operate either with a 4G SIM card or with a WIFI internet connection. On average, these cameras use up to 2 megabytes of data on standby mode. More data up to 500 megabytes is used when viewing recording on the app for about an hour.
The Best 4G Solar Security Cameras
We have compiled a list of four top 4G solar security cameras for your picking. This is particularly to aid you in making a quality choice as per features and specifications. This review is detailed and objective. Consider this a guide to help you pick from the lot that is available in the market. Here is the list of the best 4G Solar Security Cameras:
#1 REOLINK Go PT 4G Solar Camera
Top of the list of the best 4G solar security cameras is the REOLINK Go PT Outdoor Camera. This smart 4G/LTE camera does not require Wi-Fi as it can work anywhere with 4G and 3G coverage. It is suitable for all outdoors either around buildings or even in the wild. With a 4.3 stars rating by over 1000 customers on Amazon, this camera is the perfect wireless solar security camera choice.
The REOLINK Go PT has a wide coverage as it can rotate 355° and 140° horizontally and vertically respectively. That is almost a total coverage of the areas around the camera. Another noteworthy feature is the ability to remotely control the pan-tilt using the Reolink app.
The PIR motion sensor feature allows for swift motion detection, ensuring no action eludes you. This camera has a two-way audio system that allows you to talk back over the camera. This means that communication can be activated from anywhere in the world.
Pros
It does not need Wi-Fi, works on both 4G and 3G networks
IP64 Waterproof casing to withstand harsh weather
Starlight night vision
Live view and two-way audio
PIR motion-triggered recording.
Remote access monitoring and push notifications.
Cons
Price is on the higher side
#2 BOAVISION S10 Solar Camera
The BOAVISION S10 Solar Camera is a wireless solar-powered security camera that uses the 4G/LTE data sim card. It has 1080P HD images and 2 MP cameras with full-colour night vision. This clear recording for day and night is facilitated by 2 infrared and 4 floodlights LED. It rotates up to 320° and 90° horizontally and vertically respectively.
BOAVISION S10 Solar Camera is enabled with PIR and Radar motion detection to make sure nothing escapes your view. It has a long range of motion detection for up to 40 feet away from the camera. It also has two-way audio with alarms. It supports local storage on SD cards and cloud storage.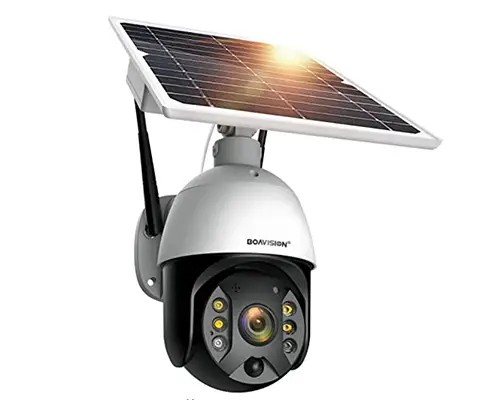 Pros
IP65 Outdoor waterproof design
Real-time viewing via Android or iOS app
10400mAh capacity battery
Two-Way Audio with mobile alert
Recording activated by PIR
Completely wireless and easy to install
Cons
Does not work with Verizon SIM card
#3 Hiseeu C30 Solar Security Camera
The Hiseeu C30 comes with two cameras, two solar panels, and one base station. It is enabled with a 3MP night vision accompanied by PIR motion detection. The Hiseeu C30 camera has a router that is connected with an Ethernet cable to the base station. The base station can accommodate up to four different cameras.
The camera has a 78° coverage angle with light for night vision. It offers an alarm system when the PIR motion sensor detects movement. It triggers recording till 15s after the motion is out of coverage range. It allows for multi-angle capturing with magnetic brackets. It can record locally on an SD card, expandable up to 128GB.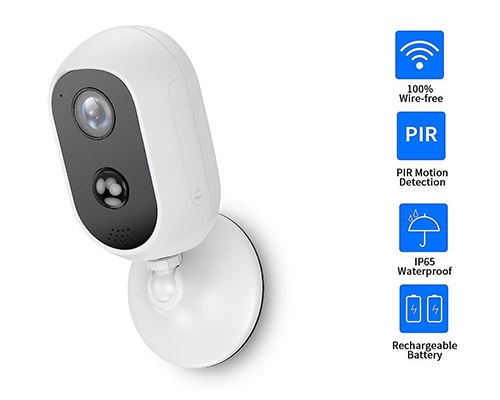 Pros
The base station can support up to 4 cameras.
3 MP Night vision camera with PIR motion detection
2-way audio support
Records up to 15seconds after the trigger is out of range
Sends an alarm when motion is detected
It can be for both outdoor and indoor usage
Cons
Limited in view with only a 78° angle
#4 Ulikecam Solar Outdoor Security Camera
The Ulikecam solar outdoor security camera is fitted with a two-way audio system with a built-in loudspeaker and microphone. The camera system has PIR motion detection and instant alert once motion is discovered. It is made of IP66 waterproof materials that make it suitable for outdoor use.
It has coloured night vision with 1080P resolution. Unlike the other three 4G solar security cameras, the Ulikecam solar camera needs Wi-Fi to work. It connects to 2.4G Wi-Fi and not a 5G network.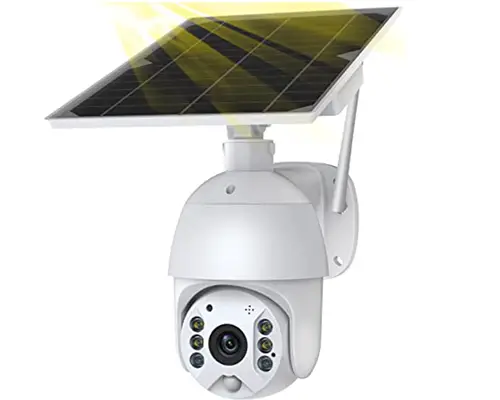 Pros
Two-way audio support
PIR motion detection
IP66 waterproof material
Coloured night vision
Cons
No SD card
Free Cloud recording is only for 30 days
Requires Wi-Fi
Why 4G Solar Security Camera?
As against the other power sources and camera connectivity, why should you opt for the 4G solar security camera? These are the advantages of these cameras over other types:
1. No need for electric wirings
With the 4G solar security cameras, there is no need for electrical wirings to power the camera units. There is also no need for wirings for the monitor units, the camera works with either a SIM card or Wi-Fi connection. Electrical bills due to power usage by the cameras are also not a concern with the solar power usage. You can save up some cents and even dollars with solar-powered security cameras.
2. Less need for Battery Replacement
Other forms of wireless cameras that are not solar-powered require changing the batteries occasionally. This is highly demanding because most security cameras are installed in hard-to-reach places. But with solar-powered 4G cameras, the battery can last up to 3 years without the need for replacement.
3. Always On-guard
There is no need to worry about power outages with solar-powered security cameras. The cameras will work either during the day or night because the batteries are always charged by the solar panels. These cameras are also energy-saving, making the camera remain on guard for 365 days a year.
Conclusion
Security cameras are installed to provide uninterrupted surveillance. This is why a 4G solar security camera must be your priority. They are reliable and always working to keep you and your family safe. To save you time, we have carefully researched and offered you a review of the best of the 4G solar security cameras. Go through the review and make your pick based on your specific need.
Generally, 4G solar security cameras are not just the latest in invention but the best that offers value for money. The REOLINK Go PT offers the best value on all criteria. It works both on 4G and 3G network coverage without needing Wi-Fi. It is slightly higher in price compared to others but it sure offers more value than the others. The BOAVISION S10 Solar camera is also a decent choice, especially with its 10400mAh capacity battery.