6 Volt Regulator using IC 7806
Description
Here is the elementary 6V 1A power supply circuit using 7806 IC. The 7806 three-terminal positive voltage regulator is available in the TO-220/D-PAK package making them useful in a wide range of applications. 7806  employs internal current limiting, thermal shut down and safe operating area protection, making it essentially indestructible. If proper heat sinking is provided, it can deliver over 1 ampere output current.
6 Volt Regulator – Parts List
Component
Specification
Voltage Regulator IC
7806
Transformer
230V Primary
9V Secondary
Diode
2Amps Bridge
C1
470uF
C2, C3
0.01uF
Voltage Regulator Circuit Diagram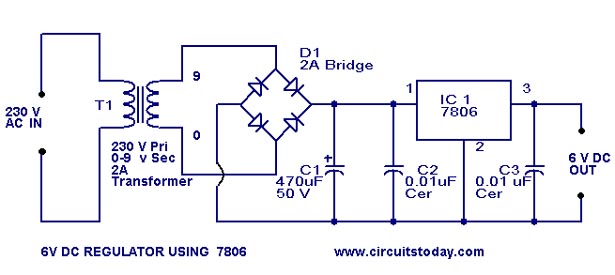 Pin out of 7806
From the 78XX Voltage Regulator Integrated Circuit series, 7806 IC is used to regulate the output voltage to 6 Volts (Fixed constant value with minimal fluctuations). Many chip manufacturing companies provide this IC with different output current and over-current protection characteristics. Each IC may have different output current characteristics varying from 1 Amp to 1.5 Amps. Refer datasheets to know which one you will need to design your 6V regulator.
The 7806 IC is also available in T)-3, TO-252, TO-92 & SO-8 packages.
Notes
If 2A bridge is not available make one with four 1N 4007 diodes.
Fit a proper heat sink with 7806 if your circuit draws  more than 400mA current.
You may also like: 

9V Regulator Using 7809 IC
We have more interesting Power Supply Circuits, that you may like to read;
1. Adjustable Voltage Regulator

2. Dual Variable Power Supply

3.  Simple Power Supply Circuit

4. Transformer less Power Supply

5. 5 Volt Power Supply