Nowadays desktop PC's are getting diminished due to the high demand for laptops. Though both desktops and laptops have the same specifications, the way they are put together is what makes them different. You can carry your laptops wherever you like and can also be run on battery unlike a desktop computer (though it runs on UPS, it does not stand for a long time compared to laptop). They are smaller in size and also thin and lightweight. Desktop computers, on the other hand has bulky components and a lot of connectors. The screen and CPU has more weight and hence is difficult to carry. Though a laptop has all the same components as a desktop PC, they are all integrated into a smaller package.
Why should you add RAM to your laptop?
People buy laptops for different reasons. Some think of it as just an upgrade to their usual desktop. Some people buy it for business reasons and some others for their personal use. The common reason is that whenever you overload your laptop, that is, when you run a lot of programs at a time, upload more music or so, you will find that your laptop becomes more sluggish with reduced performance.
The main reason for such a low performance is low RAM. Even your booting time of the laptop will be reduced due to low RAM. There are only two remedies for such a case. Either increase you RAM or buy a new laptop with greater performance. Increasing your RAM would be the cheapest solution. Now increasing your RAM can be in two ways. Either upgrade your RAM or add an additional RAM to your laptop.
Factors to be considered while adding RAM to your laptop.
We have already discussed the main reason for adding or upgrading your RAM. But there are more factors that must be considered before taking such a task.
First of all you must make a decision on the choice of the right RAM. For this, you must compare the system performance to the amount of work you do on the laptop. If you play video games or run a lot of programs, you may have to upgrade your RAM with one that has a lot of memory. For such cases you may need RAM's with 2GB of RAM or more.
After choosing the right RAM for the laptop, the next step is in connecting the RAM to your laptop.
Steps for connecting RAM to your laptop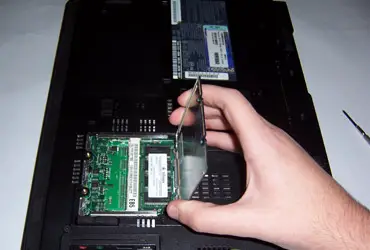 Buy the most satisfactory RAM module for your laptop.
Turn off the laptop and remove all power sources leading to the laptop.
Use an anti-static wrist strap while connecting the additional RAM.
All the laptops have different designs. But the memory compartment door for most of the computers is the same. You will find it as a small compartment under the laptop. Unscrew the screws using an appropriate screwdriver. If the RAAM compartment is not found in the desired place find out the exact location by checking the owner's manual or your laptop supporting website.
The entire RAM compartment will have two slots for RAM. According to your computer configuration there may be either a single RAM on one of the slots or two RAMS on both the slots. If it is one RAM in one slot then all you need is to add another RAM in the empty slot. But if both the slots are occupied, you must remove the RAM and replace it with a RAM with more memory.
For adding a RAM to an empty slot you just have to fit it into its place and then give a little push. It will be automatically locked down with the help of clips.
For upgrading a RAM you will have to remove one RAM from the slot. All you have to do is press on the small ejector clips that presses the RAM to keep it in the right position. Once it is removed replace it with a higher memory RAM.
After completing the process, screw back the compartment and turn on your laptop. The PC will automatically detect the extra memory and work normally. If the process was not completed properly, you will hear a beep sound. If so, repeat the process again. To test the power of the memory, run multiple programs on your computer as a test. You will recognize that your computer is acting faster than before.