Description.
Here is the circuit diagram of an adjustable voltage regulator using IC L200. L200 is a monolithic integrated adjustable voltage regulator IC having features like current limiting, thermal shut down, power limiting, input over voltage protection etc. Here the regulator is designed to produce an output adjustable between 2.85V to 15V at 1A.The resistors R1 and R2 determines the output voltage. The resistor R3 determines the limiting value of output current, here 1A. Capacitors C1 and C2 does filtering.Do not give more than 40V to the input on L200.
Circuit diagram with Parts list.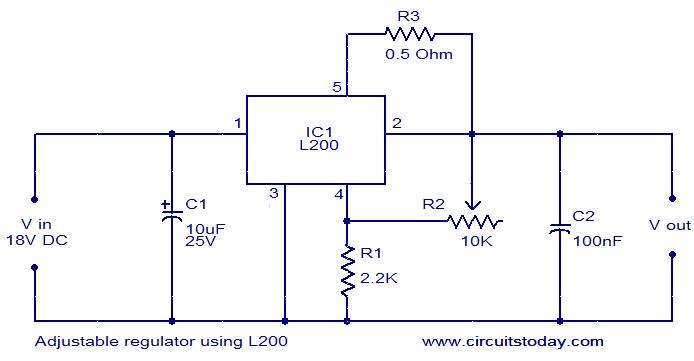 Notes.
Assemble the circuit on a general purpose PCB.
Power the circuit with 18V DC
Always the input voltage must be few volts higher than the max: regulator output.
Fit the IC1 with a heat sink.
Output voltage can be varied by adjusting POT R2.
Design formulas.
V out = 2.77 [1+(R2/R1)]
Current limit (I sc)= 0.45/R3