Amazon Echo, easily described as the Siri for your home, is an amazing smart gadget by Amazon for your home. Echo is basically an expertly tuned speaker with wi-fi and bluetooth connectivity. Its hardware is very nice, a 9.25" high cylinder with a woofer and a tweeter and is capable of producing 360 degree omni directional audio. It also has an array of 7 microphones which listen to everything you say from any direction, and its listening skills are pretty good too. It is truly a beautifully designed product which comes at par with that of a Nest thermostat or an iPhone.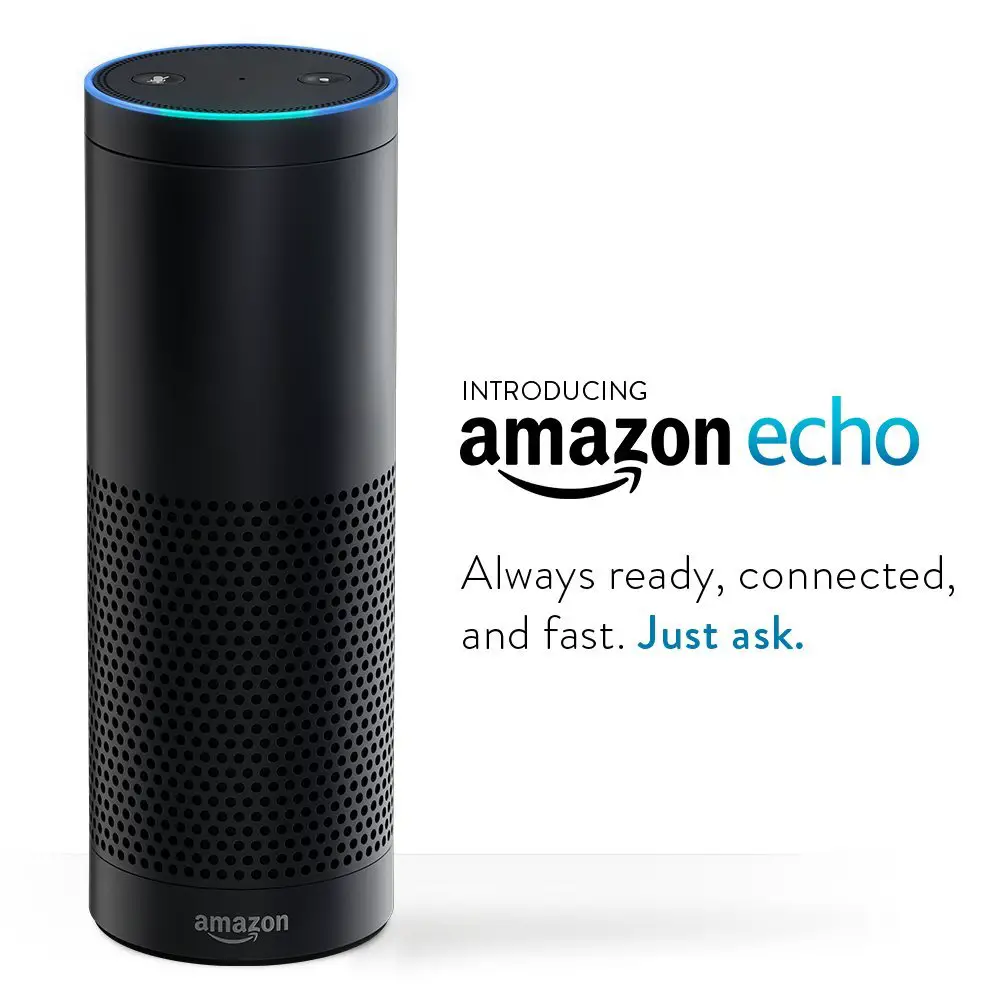 But Echo is like a beautiful human body without life! Alexa is what gives it life. 'Alexa' is the software part of the Echo and is cloud based. It is the brain of Echo. The product Amazon Echo is the combination of the hardware Echo and the software Alexa, and together this is an amazing product, the first of its kind.
Get More Information Amazon Echo
Watch the video and see what it can do.

The hardware:
Echo's hardware is beautifully designed, it doesn't take much room and can be placed anywhere near a power outlet (no it doesn't have batteries, it need to be plugged in all the time.) The first thing you notice after switching on the device is the blue ring of light on its top. There are two switches on the top side of this device, a microphone off button and an action button; pressing of which is one way of waking this device. This top lid also acts as the volume controller which is pretty clever design. Hidden under this is an array of 7 micro phones. 'Beam-forming' technology enables these microphones to capture sounds from any direction. They are also well equipped with noise cancellation and can hear you even while playing music. The design also houses a 2.5" woofer and a 2" tweeter. On top of the woofer is a reflex port to enhance its output. For design aesthetics and hardware performance Amazon Echo does a good job.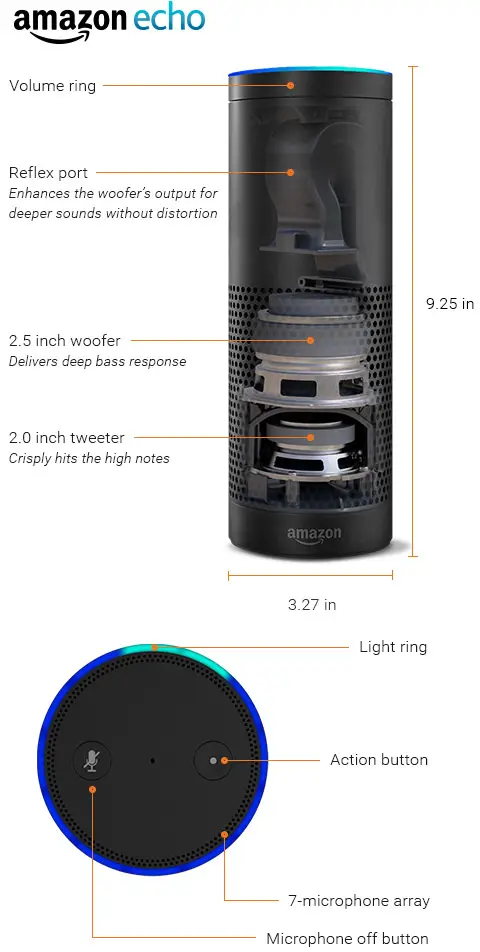 The software:
Alexa, the brain of Echo, is a smart cloud based voice service. It can do many things like 'Siri' from setting an alarm to making shopping lists. Alexa is self learning and will adapt to your speech patterns and preferences in no time. You can use a wake word which is 'Alexa' or 'Amazon' and the device will start working. Since it is always plugged in it is always on and is always listening, you don't have to press any buttons like those on your smart phone to activate speech recognition.
Being built in the cloud platform Alexa is always updated and these updates are delivered automatically to Echo. This makes it possible for the developers to continuously update your software and add more capabilities.
What can Amazon Echo do for you?
Amazon Echo is totally voice controlled and hands free. Below is a short note on what you can do with it.
Listen to music from Pandora, Amazon music library, iHeartRadio, Tuneln, Prime music and Audible.
Check your schedule on Google calendars
Easily re-order products from your Amazon shopping history
You can voice control certain home devices via Amazon Echo. It works with Philips Hue, Belkin WeMo and Wink devices.
Helps you find commute time and the fastest route.
Get sports scores and schedules
Hear news, weather and information. You can also ask questions and get answers from Wikipedia, Definitions and more.
You can also set timers, alarms and make shopping and to-do lists
But above all you will find it easy and fun to converse with Alexa. This is something you don't do with other voice services like Siri or Cortona.
What the users are saying?
This product is already sold in thousand. It has got 22,958 reviews on Amazon till date and has a rating of 4.5/5 stars. Around 90% of the customers left this product a 4+ rating
View Reviews and Ratings given for Amazon Echo
Cons:
None of the critics complain about Amazon Echo's hardware. What Echo lack is good software. For the time being it doesn't have access to search engines like Google or Bing and the information it can provide you is limited to Wikipedia and what is on Amazon's database. This gadget has the potential to be great but it is not, yet. The good thing about Echo is that its software is cloud based, so once you buy the hardware it can always receive the future updates and capabilities.
Is echo worth buying?
Is the first iPhone as great as the 6 plus? Definitely not, but it was the hottest product at that time. Same is the case with Amazon Echo, it is the only one of its kind. Priced at $179 it is definitely worth its value.
Checkout Amazon Echo page for product specification and feature details