Description.
The circuit given here can be used to control the brightness of low power incandescent lamps. The circuit is based on IC NE555 which is wired as an astable multivibrator with variable duty cycle. The output of IC is connected to the base of transistor Q1.The Q1 drives the lamp. The duty cycle of the multivibrator can be varied by varying the POT R4.As a result, the brightness of the lamp varies according to the position of the POT R4.The same circuit can be also used for speed control of small DC motors.
Circuit diagram with Parts list.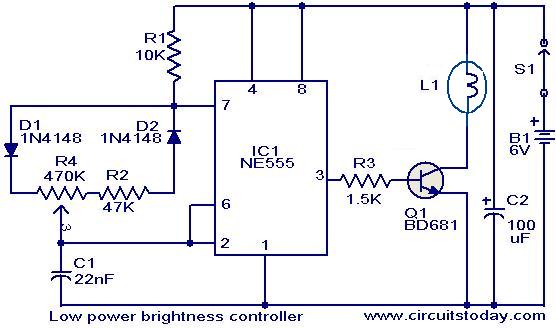 Notes.
The lamp L1 can be a 6V / 200 mA lamp.
The switch S1 can be SPST ON/OFF switch.
The IC1 must be mounted on a holder.
The circuit can be wired on a good quality PCB or common board.