A fridge door open alarm circuit is explained with its detailed working and circuit. The objective of this circuit is to produce an audible alarm when the fridge is left open for more than a preset time. This versatile door alarm is made possible with the use of two 555 timer IC's.
Both the 555 ICs are wired as Astable Multivibrators. A Light Dependent Resistor (LDR)  is used as the light sensor for this circuit. It is basically a light-sensitive device that works on the principle of photo-conductivity. An LDR is made of semiconductors with high resistance. When light falls on the device, the output of the LDR varies, and this output can be used to buzz an alarm for the door open circuit. It is connected in parallel to the timing capacitor C1 of 555 timers, IC1.
In the door alarm circuit below, R2 represents the LDR. When the door is completely closed there will be no light inside the fridge and thus the LDR offers high resistance and keeps the resistor R1 fully charged. When the door is left open, the lamp inside the fridge will keep glowing, and thus LDR will be illuminated, and its resistance falls. This makes the capacitor C1 to stop charging and starts to discharge. In simple words, this is because at low resistance LDR bypasses much of the current in the parallel path and capacitor gets less current. Now IC 1 starts slightly oscillating and after a preset time of 25 (time T1) seconds, its output goes high. This output makes the 555 timer IC2 to produce oscillations and results in a beeping sound for the next 20 (time T2) seconds and this cycle is repeated until the door is closed.
Notes
Assemble the circuit on a good quality PCB. Time T1 & T2 can be adjusted by varying the values of C1, C2, R1, R4 and so on (Refer the datasheet of 555). Keep in mind that LDR will produce efficient output only if it is placed close enough to the lamp inside the fridge.
Parts List 
| Component | Specification | Name |
| --- | --- | --- |
| 1/4W Resistance | 10K | R1 |
| 1/4W Resistance | 2.2M | R3 |
| LDR | | R2 |
| 1/4W Resistance | 1M | R4 |
| 25V Electrolytic Capacitance | 10µF | C1 |
| Diode | 1N4001 | D1 |
| NE555 Timer | IC | |
| Piezo Buzzer | BZ1 | |
| Cell | 3V | B1 |
Fridge Door Alarm Circuit Diagram.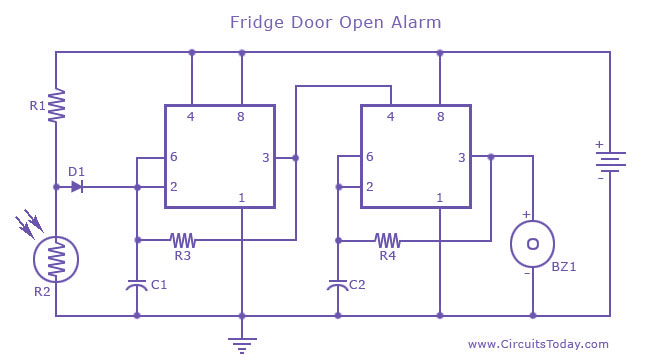 The door open alarm circuit can be considered as a hobby circuit for beginners. The circuit can also be used to avoid wasting electricity by unnecessarily keeping the fridge door open for a long time.