CircuitsToday has introduced an online bookstore where 4 books on basic electronics are reviewed in detail. These books are written by renowned authors like Forrest M Mims, and other famous personnels. Please go through the reviews and buy them from here:- 4 GREAT BOOKS TO LEARN BASIC ELECTRONICS
Description.
This is a very simple and cost effective mains operated LED lamp which gives a very bright white light.Since no transformer is used, the circuit is very compact and light weight.The mains supply is given to the bridge rectifier via the parallel network formed between R1 and C1.The bridge rectifies the mains supply.The resistor R2 limits the current through the LEDs.The capacitor C2 acts as a filter.
Circuit diagram with Parts list.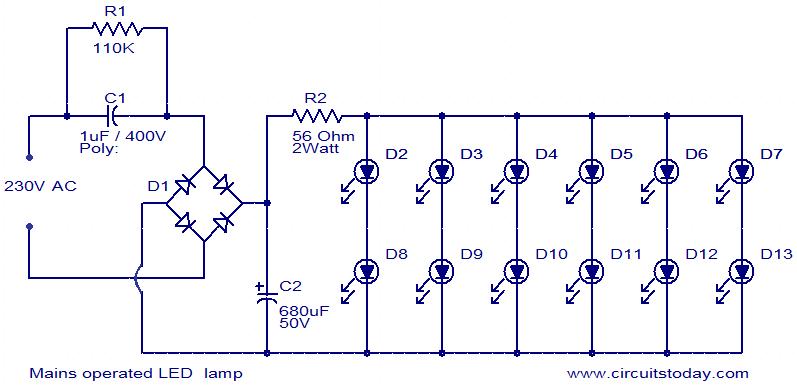 Notes.
The circuit can be assembled on a general purpose PCB.
The bridge D1 can be made by using four 1N 4007 diodes.
D2 to D13 can be bright white LEDs.