Metal Detector Circuit
I always wanted to make a metal detector seeing how cool it was in all Hollywood, Bollywood movies. One thing I realised is; things aren't as difficult as you think it is. After all, I found that a metal detector is really simple and easy to make. So in this post, I am sharing with you "How to make a metal detector"
Description
This is the circuit diagram of a low cost metal detector using a single transistor circuit and an old pocket radio. This is nothing but a Colpitts oscillator working in the medium band frequency and a radio tuned to the same frequency. First, the radio and the circuit are placed close. Then the radio is tuned so that there is no sound from the radio. In this condition, the radio and the circuit will be in the same frequency and the same frequencies beat off to produce no sound. This is the set up. When the metal detector circuit is placed near to a metal object the inductance of its coil changes, and so do the frequency of oscillations. Now the two frequency will be different, there will be no cancelling and the radio produces a hissing sound. This means a metal object is detected.
Simple, ha.
CircuitsToday has presented a list of books that will help you to gain knowledge on the basics of electronics. These books are written by some renowned authors in the field of electronics and can be bought online. Please click on this link:- 4 GREAT BOOKS TO LEARN BASIC ELECTRONICS. 
Notes 
To make L1 make 60 turns of 36SWG enamelled Copper wire on a 1 cm PVC tube.
Powering the circuit using a adapter rather than a battery induces noise. It is always good to power radio projects from a battery.
Metal Detector Circuit Diagram & Parts List
Circuit Diagram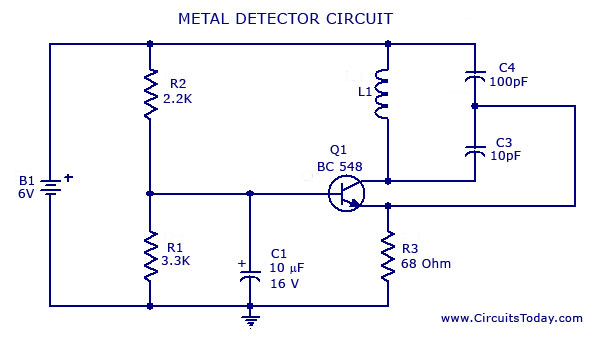 This simple circuit consists of the following parts;
Resistor – 3.3 k ohm – 1 nos
Resistor – 2.2k ohm – 1 nos
Resistir – 68ohm – 1 nos
Capacitor – 10uF/16V – 1 nos
Capacitor – 10pF – 1 nos
Capacitor – 100pF – 1 nos
Battery – 6V
NPN transistor – BC548 – 1 nos
Applications
The applications of metal detectors are many. You can see them in airports and anywhere that needs a security check for entry. Other than that;
You can use this as a cool mini project for engineering, or at least for showoff
To detect metal objects in conveyor belts. In food processing industries it is important that no metals are accidentally included so having a metal detector near the conveyor belts which carry the items for packing will do the job.