Here comes a device that uses "phase-change" memory solid state device that provides a way better performance than the conventional hard discs and other solid state drives (SSD) used today.
The device also known as Moneta was developed in Jacobs School of Engineering, UC San Diego. Due to its success, the developers have decided to exhibit it at DAC 2011, one of the world's leading technical conference and trade show on latest electronic circuits and design automation. The device is sure to catch the eyes of several electronics companies like Micron Technology, Xilinx and Beecube.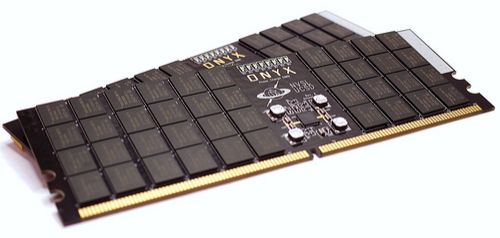 The device uses a new data storage technology called phase-change memory (PCM). In this method a metal alloy called chalcogenide is used to store the data inside its crystal structure. This method has been proved to be faster and simple to use than the current data storage device like flash.
Some of the main advantages of this technology when compared to a conventional hard disc is that it does not have any moving parts. Today, one of the most used solid storage device is the flash memory. It has already found its place in all mobile devices and laptops. Flash memory may be faster than a hard disc, but it still does not satisfy the current demand for speed, data storage and high performance computing.
Multi-national companies like Google attain data quickly by using the current solid state devices in huge numbers. But, with the help of a moneta, all this data can be attained, gone through and also take filter the ones that are needed within a fraction of a second.
PCM Memory Chips
The process that happens inside a PCM chip is simple. The chip continuously changes its state from crystalline and amorphous according to the heat that is transferred to the device vis an electrical current. Another current that is smaller in magnitude is passed on to the chip to determine the state of the chip.
The first generation chips used in the device can read data at a rate of 1.1 GBPS. It can also write data at a speed of 370 MBPS. A typical device is said to have a speed about 2 to 7 times greater than a flash based SSD.
Another feature of the device is that it can provide low level latency for each operation and also decreases the current rating of the device.
Future Computers with Moneta
According to Steven Swanson, a professor of Computer Science and Engineering and director of the Non-Volatile Systems Lab (NVSL), the device will surely be a huge success in the market. But it may take a few years for it to hit the market as the phase change memory technology has to improve more.
For the technology to act at its fullest, the software that is needed to manage the device also has to be unique and fast. "Designing storage systems that can fully leverage technologies like PCM requires rethinking almost every aspect of how a computer system's software manages and accesses storage. Moneta gives us a window into the future of what computer storage systems are going to look like, and gives us the opportunity now to rethink how we design computer systems in response" said Swanson.