NASA Robots
NASA has innovated and designed special robots which can aid them in doing tasks in dangerous environments. The most common works that are done by these robots are the repair of radiation exposed machines, capturing videos in outer space, getting into minute places inside the space craft where astronauts cannot enter and so on. In some cases, the researchers in NASA have even created robots that almost resemble to human beings in the physical structure and also the different degrees of freedom.
Some of the robots that were designed by NASA are described below.
Robonaut is a robot that resembles to a human being in physical appearance. This prototype was developed in Houston, Texas by the Dextrous Robotics Laboratory at NASA's Johnson Space Center (JSC). The main idea in creating such a robot was to help and work alongside with astronauts in space. This robot does not have the abilities to lift heavy objects and shift them. But they sure have the skills and grace in physical movement, especially in the movement of hands. Thus, Robonaut is said to be the cleverest than any other robot NASA has ever developed.
Design of Robonaut
The first design of the robot was intended for it to be used as an end-effectors for the robotic arm on the International Space Station. Thus the robot could help in all the maintenance in the external premises of the station. The robot easily became an alternative to human extravehicular activity.
The first prototypes of the robots were named R1A and R1B and had many working partners including DARPA [The Defence Advanced Research Projects Agency]. After its huge success, the second series was released and had the joint partnership of NASA and General Motors.
As time passed, Robonauts were further developed so that they could be used for teleoperation on planetary surfaces. In such operations the Robonaut would explore a planetary surface while receiving instructions from orbiting astronauts above.
Latest Robonaut – R2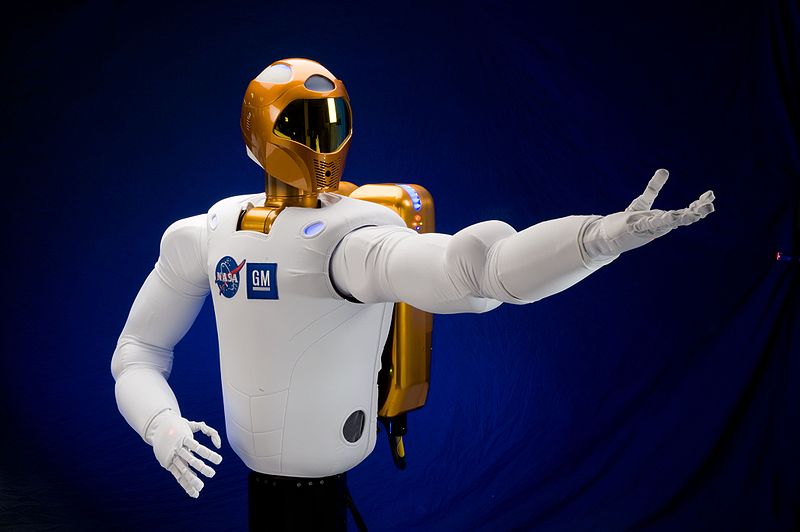 The latest version of Roboanut was named R2. The researchers are still developing it and have decided to launch it on February 24th, 2011 in the space shuttle Discovery on mission STS-133.
This robot is so advanced that it can raise its arm to almost 2 meters in one second and has 40lbs payload capacity. The robot has altogether 350 sensors and is said to have a grasping force of 5lbs. The other features of the robot are explained below.
The hand has 12 DOF [degrees of freedom] and 2 DOF in wrist.
Uses the highest levels of robot autonomy including telepresence.
Has touch sensors at the tips of its fingers.
Weighs almost 330 pounds. Has a head, a torso, 2 hands and 2 arms.
Some of the other types of NASA robots are given below. Click on the links to know about them in detail.