Onkyo TX-NR656 Review
There is no shortage of AV receivers in the market nowadays, but products from Onkyo have always been popular with entertainment seeking buyers who do not want to compromise on quality. Onkyo already has several popular AV receiver models in its portfolio and the latest to join the line-up is Onkyo TX NR656.  It comes loaded with latest features sought by audiophiles and entertainment seekers, such as DTS: X and Dolby Atmos support. It is also ideal to watch movies in eye popping 4K Ultra HD format. Another highlight of the product is support for multi-room audio.
Design: Sleek and Elegant
When you buy an AV receiver to be used with your HDTV and speakers, you will want it to gel with the look of those appliances and gadgets while expecting top notch audio-video performance! The Onkyo TX-656 has a clean and sleek design which makes it suitable for different types of buyers. You will find most of the controls at the front of the device and this is actually practical from a usage perspective. The large volume knob, as well as the HDMI port, is located at front of the device. The headphone and microphone inputs are also at the front side. However, keeping the USB input at the back of the device is somewhat inconvenient.
The remote control of Onkyo 656 is quite easy to use and it is definitely an improvement over the unit you get with Onkyo TX-NR646. The remote does not have the number pad which makes it more convenient to use and navigate too. Like some others, you may also want your Smartphone or tablet to control features of the receiver and that is possible, thanks to the Onkyo control app. This is available both for iOS and Android users. It is quite intuitive in both OS versions.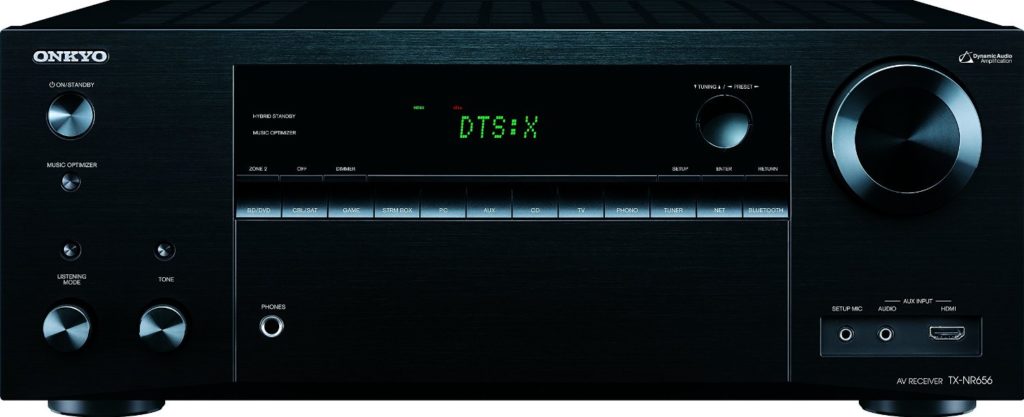 Connectivity: Spoilt for Choice
You get nearly all types of connectivity options with the Onkyo TX NR656. There are several types of analog connections along with digital and component inputs. They are located at the rear side of the device. The number of HDMI ports is plenty for any users, as it is. The HDMI inputs (8 in number) are compatible with HDCP 2.2 and support HDR video. The inclusion of 1080p video up scaling to 4K standard is commendable, but most 4k TVs in the market are also capable of doing this.
Onkyo is known for making its AV receivers loaded with features and the Onkyo NR656 is no exception. The feature list is likely to please even most finicky buyers, both in audio and video. Onkyo has ensured the device is reasonably future proof.
Dolby Atmos and DTS: X- The receiver is compatible with both DTS: X and Dolby Atmos, two sound technologies loved by true audiophiles. It is basically a 7 channel receiver and the ideal setup would be 5.1.2 configuration. DTS –X allows you to customize the sound output in myriads of ways to get truly immersive audio experience.

Multi-Room and Hi-Resolution Audio- No matter what your audio source is, the

Onkyo TX-656

can decode it into audio output without any noise or trace of distortion. The

Hi-Grade384 kHz/32-bit DAC handles all types of digital to analog conversions with aplomb. It supports lesser used audio formats like WMA Lossless, WAV, Apple Lossless as well as FLAC. The device also lets you set up several audio zones in the abode without many hassles. It makes use of the company's FireConnect technology for multi room audio distribution.
Wireless Streaming- with a majority of music lovers going for Streaming apps and services, companies have started including more wireless streaming standards in their devices including AV receivers.  The

Onkyo TX-656

gets full marks in this debarment and

it gets Bluetooth and wifi inbuilt. On top of that, it comes with support for AirPlay and top web streaming services. For example, you get support for

Spotify, Pandora and Chromecast services. Streaming from a Smartphone or laptop to the receiver is a cakewalk.

4K video with HDR- The Receiver is capable of handling 1080p video as well as 4K format. Support for 4K video with HDR is like icing on the cake.
Setup and Audio Output: Ticking most Boxes
Onkyo has provided a setup microphone to enable users setup the device with their appliances without glitches. A reflex optimizer is there to specifically calibrate DTS: X and Atmos speaker modules. It is something even technologically inept user can complete within a few minutes.
As for sound output, the performance is impressive. Playing back the DTS: X enabled movies can offer you immersive sound experience that you are not likely to forget. The Dolby Atmos sound effects are also impressive and you can experiment with different effects. The AccuEQ settings are what you need to use. With different genres of music like jazz and rock, the output is impressive.
Other Factors
While buying an AV receiver, you are not likely to think much about power consumption. The Onkyo TX-656 consumes 580 watts when it is functioning. However, in idle mode, it requires only 0.1 w which is impressive. The device weighs about 10 kg, which is decent for a receiver of this class.

---
---
Summing It All Up
Overall, Onkyo 656 comes across as a capable and feature packed AV receiver that will appeal to diverse types of users. The company has packed in most features to be used by target buyers and the inclusion of ChromeCast support is a nice step. The HDR support for 4K content makes it reasonably future proof. The same can be said about support for audio formats like Dolby Atmos and DTS: X. The design is sleek if not outstanding and setting it up is pretty simple. The receiver scores well in connectivity fronts and the enhanced remote is a breeze to use. The Smartphone apps are also pretty nice and user-friendly. You can go for it if a well performing and future proof A/V receiver is what you want. 
The Onkyo TX-NR 656 is an upgraded version of the A/V receiver model TX-NR 646. Many buyers seek for comparison between the two models before buying the appropriate one. We have compiled the comparisons between all the technical specifications of both these models so that you get a better idea on which model to buy. But the manufacturers are slowly pulling the NR 646 model from the market to promote its upgraded model,  the TX-NR656.
Comparison of Specs & Features – Onkyo TX-NR656 & TX-NR646
General Features & Pricing
| Model | Onkyo TX-NR656 | Onkyo TX-NR646 |
| --- | --- | --- |
| Pricing | Check Price | Check Price |
| Internet-ready | YES | YES |
| Bluetooth | Built-in | Built-in |
| Apple AirPlay | Built-in | Built-in |
| App Remote Control | YES | YES |
| USB port for iPod/iPhone | NO | NO |
| FM Sensitivity | Not Given | Not Given |
| HD Radio Tuner | NO | NO |
| On-Screen Display | Thru HDMI | Thru HDMI |
| Auto Speaker Calibration | AccuEQ/AccuReflex | AccuEQ |
| HDCP 2.2 for 4K Video | YES | YES |
| HDR-compatible | HDR10 | YES |
| HDMI Standby Pass-through | YES | YES |
| Composite Video Conversion | From Composite to HDMI | From Composite to HDMI |
| Component Video Conversion | From Component Video to HDMI | From Component Video to HDMI |
| HDMI to HDMI Upconversion | YES | NO |
| MHL-compatible | NO | NO |
| Multibrand Remote Control | NO | YES |
| Learning Remote | NO | NO |
| Width (inches) | 17-3/16 | 17-1/8 |
| Height (inches) | 6-13/16 | 6-13/16 |
| Depth (inches) | 15-9/16 | 13-5/8 |
| Weight | 22 Pounds | 20.7 Pounds |
| Parts Warranty | 2 Years | 2 Years |
| Labor Warranty | 2 Years | 2 Years |
Amplification
| Model | Onkyo TX-NR656 | Onkyo TX-NR646 |
| --- | --- | --- |
| Number Of Channels | 7 | 7 |
| Stereo RMS Power (Watts) | 100 | 100 |
| THD in Stereo | 0.08% | 0.08% |
| Frequency Bandwidth (stereo) | 20-20k Hz | 20-20k Hz |
| Minimum Impedance L/R | 6 Ohms | 6 Ohms |
| Minimum Impedance Center | 6 Ohms | 6 Ohms |
| Minimum Impedance Surround | 6 Ohms | 6 Ohms |
Multi-room Audio/Video
| Model | Onkyo TX-NR656 | Onkyo TX-NR646 |
| --- | --- | --- |
| Powered Multi-room Audio Output | YES | YES |
| Preamp Multi-room Audio Output | YES | YES |
| Multi-room Video | NO | NO |
| Multi-room HDMI Output | NO | NO |
Surround Processing
| Model | Onkyo TX-NR656 | Onkyo TX-NR646 |
| --- | --- | --- |
| Dolby Digital | DD, TrueHD, DD+ | DD, TrueHD, DD+, EX |
| Dolby ATMOS | YES | YES |
| DTS | DTS, HD, HDMA,, ES, 96/24 | DTS, HD, HDMA, ES, Neo6, 96/24 |
| DTS:X | Firmware Update | Firmware Update |
Inputs & Outputs
| Model | Onkyo TX-NR656 | Onkyo TX-NR646 |
| --- | --- | --- |
| Phono Input | 1 | 1 |
| Audio-Video Inputs | 8 | 8 |
| Audio-only Inputs | 1 | 1 |
| Component Video Inputs | 2 | 2 |
| Component Video Monitor Outputs | None | None |
| Optical Digital Inputs | 2 | 2 |
| Coaxial Digital Inputs | 1 | 1 |
| Optical Digital Outputs | None | None |
| Coaxial Digital Outputs | None | None |
| HDMI Inputs | 8 | 8 |
| HDMI Monitor Outputs | 2 | 2 |
| Subwoofer Outputs | 2 | 2 |
| Multi-Channel Analog Input | NO | NO |
| Multi-channel Preamp Output | NO | NO |
| Main Speaker Output Pairs | 1 | 1 |
| Main Speaker Terminals | Posts | Posts |
| Ethernet Port | 1 | 1 |
| USB Connections | 1 (Rear) | 1 (Rear) |
| Removable Power Cord | NO | NO |