A simple "tone generator" is a cool circuit that everyone must build in their electronics learning process. We've designed this tone generator circuit using 8021 IC, two transistors (BC548 or C8050), a small speaker and some associated components. As you see, components are minimal and you don't need to spend more than a small amount to buy all the required parts for this project.
Let's Build our Simple Tone Generator
Here we present a simple and low-cost tone generator circuit, a ding dong bell suitable for calling bell purposes. It is made around IC 8021. It is an 8 pin IC but only four pins are shown here. 8021 has an in-built circuitry to produce ding dong sound each time its pin 3 is pulled low. The sound is stored in a 4 bit ROM. A complementary-pair, a two-transistor amplifier is used to amplify the sound to a fair level of audibility. A piezoelectric tweeter or an 8-ohm, 500mW speaker can be used at the output.
Each time when switch S2 is pressed, ding dong sound is produced twice. If you try to press switch S2 a second time when the first ding dong sound is still being produced, it has no effect whatever and the two ding-dong bell sounds will be invariably produced.S1 is the ON-OFF switch. Assemble the circuit on a good quality all-purpose PCB.Don't forget to use an IC holder for IC 8021.
We have a lot of tone generator circuits published on our website. If you are interested, you can try building our police siren circuit which is fun to build application. Another interesting circuit is the Whistle to beep circuit, which is also good to learn. Finally, try our touch controlled musical bell which is also a good learning experience.
Tone Generator Circuit Diagram.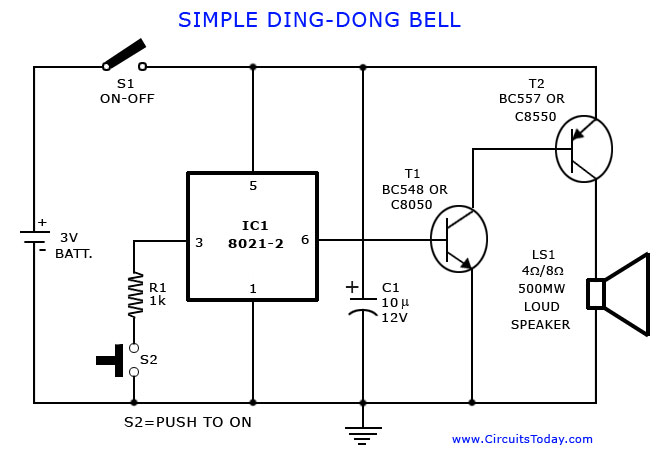 A "ding dong" bell is a very fun application to build. You will get to know the usage of transistors, IC 8021 and the use of speakers in a circuit. I recall my excitement when I built this application in my school days. So guys, try this circuit and enjoy some music from your craft.