A simple electronic combination lock is designed using IC LS 7220. This circuit can be used to activate a relay for controlling (ON & OFF) any device when a preset combination of 4 digits are pressed. The circuit can be operated from 5V to 12V.
The LS7220 IC is a MOS digital lock IC that can recognize up to 5040 different combinations of 4 digit combinations. The 4 digital password combination has to be hard-wire programmed.
Let's build the Combination Lock Circuit
To set the combination, connect the appropriate switches to pin 3,4,5 and 6 of the IC through the header. As an example, if S1 is connected to pin 3, S2 to pin 4, S3 to pin 5, S4 to pin 6 of the IC, the combination will be 1234. This way we can create any 4 digit combinations. Then connect the rest of the switches to pin 2 of IC. This will cause the IC to reset if any invalid key is pressed, and the entire key code has to be re-entered.
When the correct key combination is pressed the output (relay) will be activated for a preset time determined by the capacitor C1. Here it is set to be 6S. Increase C1 to increase on time. For the keypad, arrange switches in a 3X4 matrix on a PCB. Write the digits on the keys using a marker. Instead of using numbers, I wrote some symbols! The bad guys will be more confused by this.
This electronic combination lock circuit can be further designed with the LS7220 IC to make an Automotive Ignition Anti-Theft Digital Lock.  To build this, additional features that are integrated into the IC must be used. Some of the features include the Sense Input feature which enables the IC operation, the save memory feature, the static or momentary lock output, and the convenience delay feature (controlled by an external capacitor).
The IC output condition is provided to activate and de-activate a relay. The relay can be used to turn ON and OFF both AC and DC devices. The relay driving power can be fully utilized to control an alarm, a small display, a lamp or even an electromagnet. A door can be symbolized as OPEN or CLOSE using a DC motor that turns the door according to condition.
If you are interested in building other related applications, try our digital code lock circuit. You can also try our one transistor code lock application.
Electronic Lock Circuit Diagram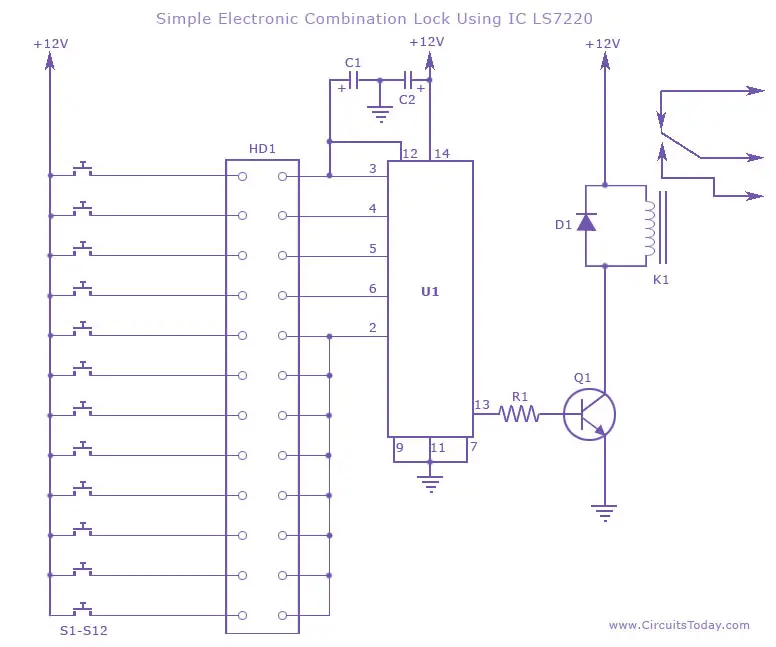 Pin Assignment of LS7220.

Electronic Combination Lock Circuit – Components and
| Component | Specification | Number |
| --- | --- | --- |
| C1 | 1uF 25V Electrolytic Capacitor | 1 |
| C2 | 220uF 25V Electrolytic Capacitor | 1 |
| R1 | 2.2K 1/4W Resistor | 1 |
| Q1 | 2N3904 NPN Transistor  or 2N2222 | 1 |
| D1 | 1N4148 Rectifier Diode (1N4001-1N4007) | 1 |
| K1 | 12V SPDT Relay (Any appropriate relay with 12V coil) | 1 |
| U1 | LS7220 Digital Lock IC | 1 |
| S1-S12 | SPST Momentary Pushbutton  Keypad (see notes) | 12 |
| HD1 | 12 Position Header | 1 |
An electronic combination lock comes in safety applications category. This circuit helps you to learn the basics of digital electronics and understand how to design digital circuits. Having a strong hand in digital electronics is very important for all electronics engineers.