In this project, let's learn how to make a Simple Proximity Detector or Sensor circuit using minimal components. A proximity detector is a fun project with lots of interesting applications to be built with. You can make very useful applications like a burglar alarm, a visitor counter, a proximity-based switching application, etc. This is a pretty conventional circuit designed using digital IC CS209 which has been in use for so long. In recent times, proximity-based applications are developed using PIR sensors – which are available at cheap prices now.
DIY – Simple Proximity Detector
This is a simple proximity detector using IC CS209. The CS209A is a bipolar monolithic integrated circuit for use in metal detection/proximity sensing applications. The CS209A contains an oscillator set up by an external parallel resonant tank and a feedback resistor connected between pin 2 & 3. The internal oscillator operates close to the resonant frequency of the tank circuit.
As a metal object is brought close to the inductor, the amplitude of the voltage across the tank gradually begins to drop. When the envelope of the oscillation reaches a certain level, the IC causes the outputs to toggle states. Potentiometer connected between pin 1 & 8 is adjusted to achieve a certain detection distance range. The larger the resistance the greater the trip-point distance. The detection range can be increased by using a high Q coil. The maximum possible range is 1 inch with a well-tuned circuit. The only difficulty in making this circuit is tuning up the circuit to a particular range. For making it easy to place a metal piece at the desired distance from the coil (within 1 inch) and adjust resistance Rf to make one of the outputs (  pin4 or 5) to change state.
If you are interested in trying another proximity circuit, we have published a magnetic proximity switch circuit that may interest you. If you are in the mood of learning more electronics, try our low-cost fire alarm circuit as well.
Proximity Detector Circuit Diagram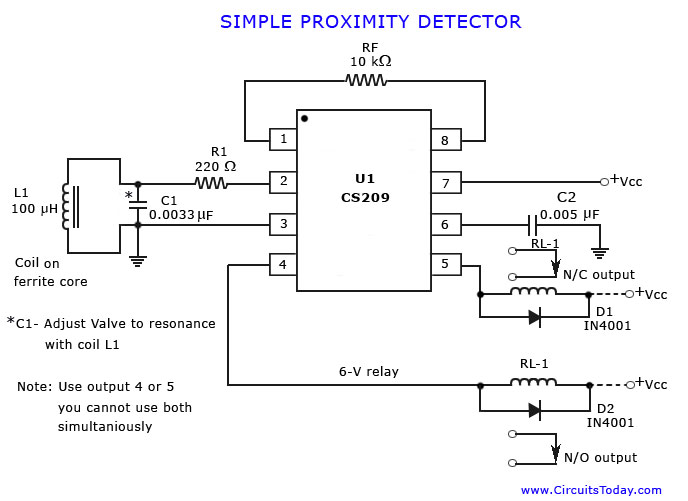 A simple proximity detector like this will help you to learn the usage of IC's, diodes, inductors and the essence of basic circuit building. Learning about IC's is an important step in building a solid base in electronics engineering. Let us know your feedback after trying these circuits. Happy tinkering!