Description.
Here is superb sound shifter circuit that can be used to add effects to the input sound signal.The circuit is ideal for incorporating in toys and adds great fun.The circuit can be also used in mixers and recorders.
The circuit is based on IC HT 8950 from Holtek. The IC HT8905 is a single chip CMOS sound modulator IC which produces seven steps of shift in the frequency of the given sound.This producing a dramatic change in the output.The IC produces two effects robotic and vibrato.The two effects can be selected using push buttons.An audio amplifier IC  HT82V 733 is also included in the circuit to amplify the sound out put of HT 8950 to a reasonable level.The 50 K POT can be used as a volume control.
Circuit diagram with Parts list.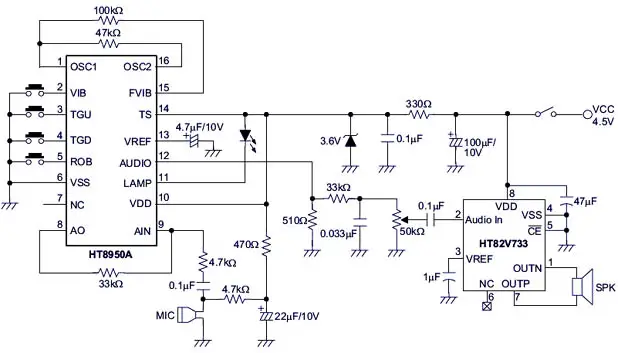 Notes. 
The circuit can be powered from a 4.5 V DC supply.
The desired sound effects can be selected from the push buttons.
A 8 Ω  speaker can be used as the load.
All capacitors must be rated 10V.