How cool will it be to have an intelligent ceiling fan that will auto-adjust its speed to your comfort!
That's what we are trying to achieve here.
Fans help to reduce room temperature by circulating air. This circulation mixes hot and cool air in the room, and in effect reduces the temperature to an average value of the hot and cool air temperatures.
As you know, we need some input to control the speed of the fan. Here temperature is considered as a measure of comfort, the less the temperature the more the comfort is.
Here two thermistors are used to measure the room temperature. This change is reflected on the fan speed by regulating the current to the fan's motor.
Description.
This fan regulator circuit will automatically control the speed of your fan according to the temperature. Two thermistors (R1 and R2) are used to sense the temperature. The circuit works almost like the published here previously.
Here the potentiometer is replaced by the thermistors. When the temperature is increasing the resistance of NTC thermistor ( R1) decreases and at the same time the resistance of PTC thermistor (R2) increases. At the same time, the rate of change of the resistance will be different for R1 and R2. This action is similar to a potentiometer used in a conventional Triac based fan regulator. When the resistance is varied the firing angle of the triac changes and so do the speed of the fan.
As a result, the speed of the ceiling fan increases with an increase in temperature and vice versa.
Circuit diagram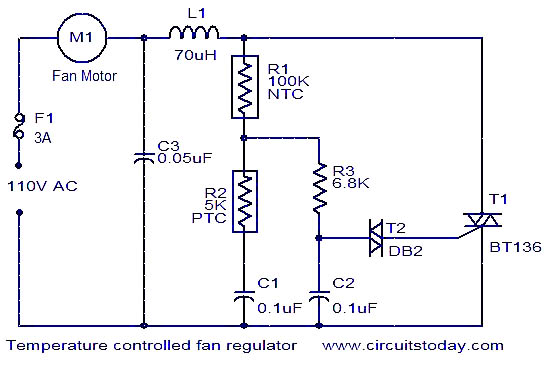 Notes.
The circuit can be assembled on a Vero board.
L1 can be a 70uH inductor.
C1 and C2 must be rated at least 200V.
C3 must be rated at least 600V.
Triac BT136 can safely handle up to 4A load current.
The two thermistors must be mounted as close as possible.