In this guide, we're building a fun project (well, 'tweet' generating circuit is obviously fun to build, but tweet crossover reduction is purely geeky!)  – which is a Tweeter Crossover Circuit. This simple design is developed using two capacitors and a potentiometer. Very easy to build and you gain lots of concepts in crossover reduction principles.
Description
A single coil speaker is not good in handling high and low frequency at the same time. If we could filter out the low frequency and play it through a tweeter ,it will produce more sound quality than using a single speaker.This is what is realized here.Here the high frequencies are filtered out using a low pass filter made of C1,C2 and R1 and send to the tweeter.The low frequency is only fed to the woofer.
Crossover Circuit Diagram with Parts List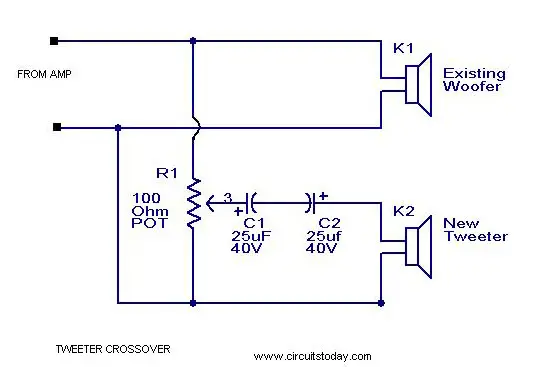 Notes
The tweeter can be a 2 to 3 inch, 4 to 8 Ohm one .
R1 is used to adjust match the the tweeters output level to that of woofer.
C1 and C2 are electrolytic capacitors.
R1 should be rated more than 2 Watts.
We have more interesting Audio Circuits in our website, which you would like to look: